Anicillaries for Pet Blowing Machines

Turnkey project execution is the flagship business of the Pet Plast India Group and we have successfully executed many plants we are proud to have customers from all around the world benefitted from our turnkey solutions. As the name suggest, turnkey project execution involves end to end responsibility from concept to commissioning to providing staff assistance for smooth operation and handover of the plant. We carefully study requirement of our customer and then our expert team of professionals put their best effort to make sure successful execution of entire process.
Some major turnkey project caters by us are:
We Provide Bottle and Jar designing services from simple to most complex design of any volume range , we understand customer's demand, analyse feasibility of design and acceptability of design in the market. We use latest 3D cad designing software to increase design productivity, with advanced photorealistic rendering, automated cost estimation, Professional collaboration capabilities, automated design and drawing checking features to meet requirements of customers.
Our Mould Manufacturing unit has an advanced setup of CNC/VMC/EDM machines of BFW and JYOTI make for manufacturing Superior quality mould Base and mould inserts using Best Quality of Raw Material. The finished mould base and inserts are assembled in a dust proof assembly area and further tested for functionality and performance. Our in-house Quality Testing Centre is equipped with necessary resources and equipment for Preform / bottle Testing, 3D Profile Projectors for in-process checks and end product testing.
HIGH PRESSURE AIR COMPRESSORS:
Our compressor unit is headed by Mr. S.B. Singh, having rich experience of more than 30 years in compressor manufacturing, and he has worked as General Manger of INGERSOLL RAND INDIA LTD. We offer comprehensive range of compressor from 1 to 350Hp in low, medium and high pressure up to 200kg/cm2. We have latest machine tools for in house manufacturing of various parts like Piston Rods, Cylinders, Crankcase, and Connecting Rods etc. Designed for high pressure applications, these compressors have extra heavy duty components and are designed and developed for minimum maintenance and maximum performance.
Our state of the Art chillier manufacturing unit is capable of manufacturing chillier up to 250TR in water cooled and Air cooled options up to -250C,for this we have High Pressure Press machines, Rolling machines, Bending machines, Pipe Cutting machines, capable of in house manufacturing of cooling tower, cooling coil unit, condensing unit etc. We do thorough testing of chillier before delivering to clients to ensure best quality of product so the products are of their true value.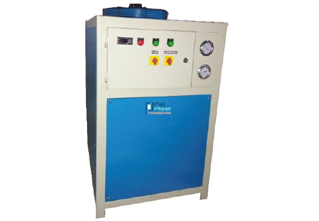 REFRIGERATED AIR DRYER & Air Filters:
Our Manufacturing unit is equipped with all latest technology equipment's for manufacturing Refrigerated Air Dryers. Our range of dryers is available with Tube in shell and tube in tube design, which helps in maintaining the heat transfer efficiency throughout the dryer's life. This range of High pressure refrigerated air dryer is available up to 300 CFM.